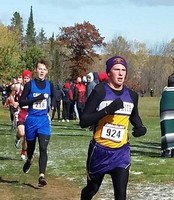 For the third year in a row, Connor Berg was able to qualify for the State Cross Country Meet. He will be representing Ladysmith in the Division 3 Boys Race at Wisconsin Rapids on Saturday, October 27th, with the race scheduled to start at 12:35 p.m. Connor completed the course in a time of 17:41 and was the sixth overall finisher. Because two of the runners ahead of ...
The Ladysmith Volleyball teams raise $2, 690. for WWCF. Accepting the donation is Jenny Hengst and the varsity team.. The teams wishes to thank all who donated to this worthy cause.
For the 14th year at the Middle School and the 13th year at the Elementary, the schools have been recognized by the Wisconsin Department of Instruction as a Title 1 School of Recognition. Congratulations to the students and educators on your hard work.Thank you to the parents at home supporting their children in their education.