No School on Thursday, Jan 11 due to icy conditions.

4th Grade Field Trip to the Ice Age Trail is cancelled tomorrow (Tues) due to the cold weather.

In support of the school community of Chetek-Weyerhaeuser, please wear PURPLE on Thurs, Nov 2. In the past 5 months, they have lost 2 members of their senior class and the devastating tornado. #UNITE4CHETEK Please share this post and let's show them we care!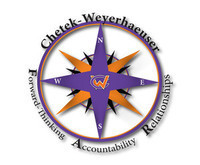 The Lady Tridents are celebrating Friday the 13th and Halloween with "tombstone" kick sets! The girls will travel to Black River Falls on Tuesday for their last dual meet. Keep working hard toward those goals girls!!

Ladysmith volleyball team players presenting a check for $2100. to WWCF members Nancy Burmeister and Amanda Shimko. The team wishes to thank all who participated in their community service project.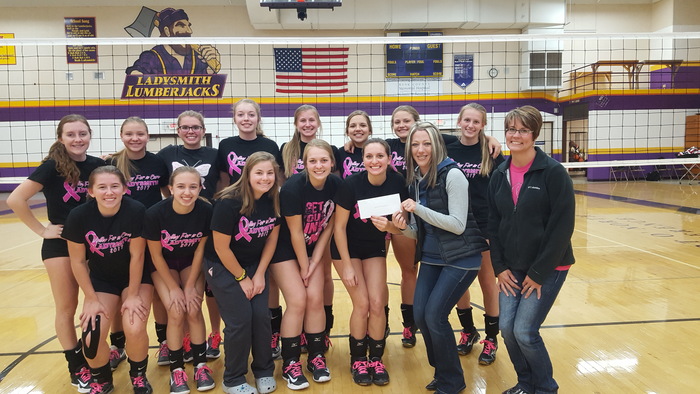 The LES Library would like to thank all of our wonderful LES community for your support for our recent Scholastic Book Fair. With your generosity, ​not only did we get some books in our students' hands, but we were able to raise over $1,600 to buy books for our library! See you in the Spring!

Volley for a Cure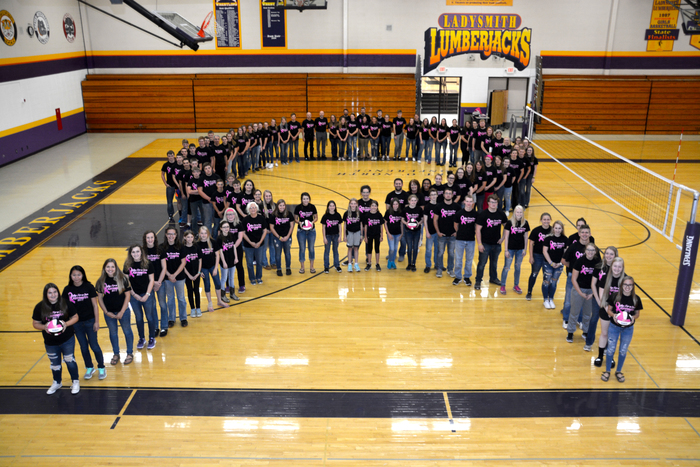 Reminder: There will be parent teacher conferences for all schools on Thursday, October 5th, from 4-7:30 p.m. and Thursday, October 12th, from 4-7:30 p.m.

UPDATE: If you would like to take your PK - Gr 8 child from the Homecoming Parade today, you must check them out of the office before the students leave the building at approximately 1:45 pm today. Otherwise you will need to pick your child up at their school at 3:3- pm. Thank you

UPDATED: Attention: The Pool will now be closed today (Fri, Sept 29) through WEDNESDAY Night (Oct 4) due to locker room repairs. The plan is to have the pool open THURSDAY morning (Oct 5), pending completion of repairs.

Attention: The Pool will be closed today (Fri, Sept 29) through Tuesday Night (Oct 3) due to locker room repairs. The plan is to have the pool open Wednesday morning, pending completion of repairs.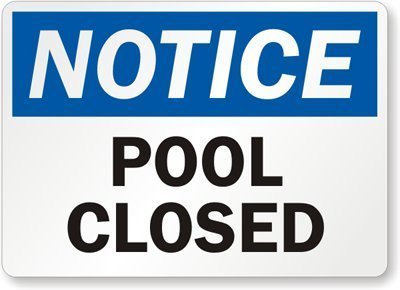 On Tuesday, September 26, the Ladysmith Middle and High School will participate in a lockdown drill which simulates an intruder in the building. It is designed to inform students and staff of the procedures to follow to minimize the negative impact of an intruder. Law enforcement personnel will be on hand to monitor the drill. Please contact the office with any questions. During the drill, the LMHS Building will be inaccessible from visitors from 8:30 - 9:00 am.

Bonfire - Wednesday, September 27; 7:30 pm The LHS band will perform their half-time show on the football field (weather permitting) at 7:30 pm. Following the show there will refreshments and a bonfire. Hot dogs will be served!

Just Announced: Front Row- Brooke Wiles, daughter of Ben and Jessica Wiles; Vanessa Loe, daughter of Jim and Debra Loe; Jill Buchhoz, daughter of Mark and Colleen Buchholz; Taylor Nelson, daughter of Rick and Amy Nelson; Megan Effertz, daughter of Jeff and Janet Effertz. Back Row- Zach Gibbs, son of Kyle and Theresa Gibbs; Caleb Meltz, son of Josh and Bethany Meltz; Jon Smith, son of Kevin Smith and Dr. Rebecca Allen; Evan Moore, son of Ron Moore and Dawn Moore; Jared Dieckman, son of Doug and Megan Dieckman.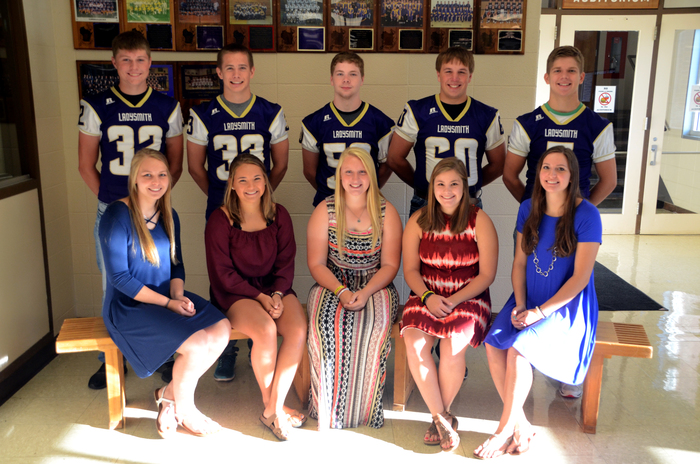 The road on the south side of LMHS is CLOSED each day from 12:15 to 1:00 due to the Middle School recess. Please either enter and leave the main entrance off of Hwy 8 or utilize the city street on the north side of the LMHS campus. Thank you!

Staff Appreciation Night at the 9/14 Volleyball Games.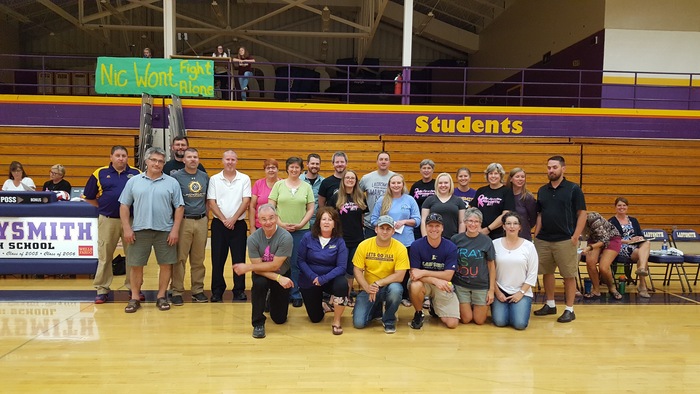 LifeTouch will be here Thursday morning, September 14 to take pictures of all students. All students are to have a picture taken whether they purchase or not. Order forms are available in the LMHS Office or order online with your Picture Day ID: MI417110Y0 at mylifetouch.com

The Board Meeting scheduled for tonight has been cancelled. The next meeting will be on Wed, Sept 27.

Classroom quilts in Mrs. Jansen's classroom!

Great work happening in Mrs. Hetchler's classroom!