EDIT MAIN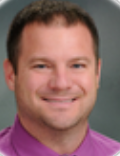 Welcome Ladysmith students and parents/guardians to the Ladysmith Elementary School family!
I'm very excited to be joining the Ladysmith School District as the Elementary Principal. I believe that all students have a great potential to learn, and I look forward to being a part of the process they embark on when planning their futures. I will be a consistent force in bringing together the students, families, and community members to produce a school culture of positive behavior. I believe by working together we can help teach students to be well rounded in school and in the community.
A little more about me, I have been in education for the past 10 years. I earned my Bachelor's Degree of Science in Elementary Education from The University of Wisconsin River Falls. For the past 8 years I have worked at Stanley-Boyd School District and last year as the assistant principal at the Ladysmith Middle/High School. I earned my Master's Degree of Arts in Education Administration Leadership from Silver Lake College. I transitioned from a 4th grade teacher to the Director of Online Learning for the Stanley-Boyd School district where I had been working with middle and high school students through their online program. I have also coached a variety of sports throughout my career in education.
I plan to lead the Ladysmith Elementary School as a safe, respectful and responsible learning environment for all students. We are all dedicated to every student and have high expectations for them. We will provide each of them with academic and behavioral support so that they can achieve their full potential. In doing this we will be using both PBIS and RtI to support them in this process.
I want everyone to feel welcome in our school. If you have any questions or concerns, please feel free to contact me so that we can work together to resolve the situation. The best way for all of us is to work together so that your student(s) can learn and grow. Working together we will make this a great learning experience for all.
Sincerely,
Nathan Steinmetz
715-532-5464 Ext: 11010